OK. Here is the deal, I had SO much to blog about, but I am trying to go in order for my own record keeping sake, so bear with me as we travel back in time 🙂
I decided to do my own flowers for the wedding. This was in part due to financial reasons, but mostly because I like simple arrangements and enjoy working with flowers. Jerry and I decided on pink mini spider gerber daisies for the wedding. I ordered them from farmstogo.com and was quite please with the end result. However, getting to that point was a bit of a struggle. I know there are brides who are considering doing their own flowers as well and it is totally doable. Just know what you are getting into. That being said, here is my story.
I researched many different vendors online before I settled in with Farms to Go. The reason, honestly, is that they were the only sellers of the specific variety I was looking for, and had the best rates per stem by far. The only issues I ran into were somewhat of a language barrier. The company is based in Miami, but the flowers are shipped from Columbia so there are a lot of Spanish Speakers in the bunch. This is not a problem for me, but it did cause a few issues when placing my order. I had some questions so I called the 800 number instead of placing the order online. I am sure if you order online, it would be much more simple. At any rate, we had several issues with spelling the address and Groom's name so after 11 tries, we finally got it right. However, about a week later, Jerry noticed there were 11 pending charges for the same order! This of course prompted several phonecalls and they assured us that they only had 1 authorization number. And they were right. Only one charge went through. So that was a headache, but it didn't materialize into a real problem. I think my nerves about ordering online just got the better of me on that one.
Moving on to delivery day! Farms To Go did exactly as they promised and sent me my 200 flowers (we went with 100 pink and 100 white of the same flower). However, we encountered a VERY frustrating delay when FedEx was over 3 hours late. But once they finally got there, we could go on!
There are a few very important things to remember when handling your own cut flowers. YOU NEED TIME. I searched all over and found some very helpful hints that are specific to all flowers, not just gerbs.
1) You will need to have several large buckets filled half-way with water for when the flowers arrive.

2) Once they arrive, unpack them and cut 1 inch off of each stem, underwater, and place in the bucket.
3) Remove any leaves that will be below the waterline – Leaves carry bacteria and shorten the life of the flowers if they come in contact with the water)
4) Let them sit for 2-5 hours before you handle them! This is one of the hardest parts but SO important! They have been out of water for a long time and need to drink (harden)
5) If there is a protective cover on the flower head, leave it on for the first couple hours.
SO, once I did all of that, I was ready to make my bouquets!! I started with mine and did the ones for my sisters. Then I divided the other stems into the milk bottles for the centerpieces. Because I used artificial flowers for the ceremony decorations, all I had left to do were the corsages and the boutonnières. I decided to wait until the morning of the wedding for this since they would be out of water.
** Tip for corsages!! Once you finish them you can store them in the fridge until it's time to go. Just put each one in a ziploc bag and blow a puff of air into it right before you seal it. MAKE SURE THERE ARE NO FRUITS OR VEGGIES IN THE FRIDGE! The fumes will make your flowers droop!
Photo by Kelsey Hurst
All in all, I couldn't have been happier with all of our flowers! They were beautiful and looked great all day and afterward. Gerbera Daisies are a very hearty flower, so I would definitely recommend them. Good luck! Here's how mine turned out!!!!!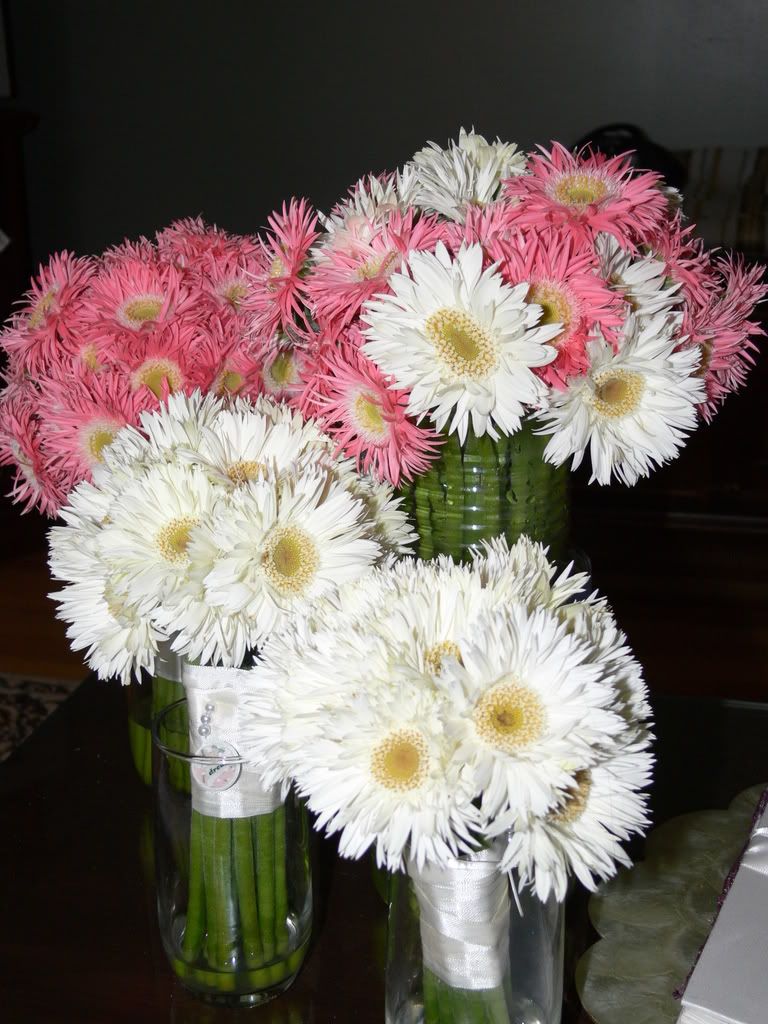 Photo by Angie Schuster
Picture courtesy of Diane Lewis Photography. I love that you can see my "something blue in this one…My mom's original engagement ring!!
Photo by Diane Lewis