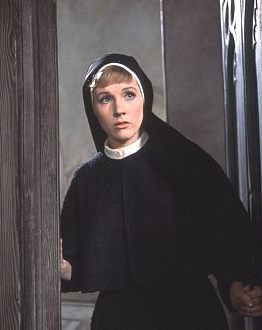 I feel like one of the nuns in The Sound of Music. Only in this case, Maria is less "troubled young woman unsure of what she wants out of life" and more "why are good things stressing me out?"
We got an offer on our house and we negotiated a deal.
I know you generally aren't supposed to talk about these things until they are but a distant memory as you unpack your lives into a new "forever home". But this is where I am. This is my Maria.
In short, I am thrilled, exhilerated, stunned, amazed, shocked, excited, anxious, nervous, a little sick to my stomach, restless and frazzled to the very end of my rope. I lie awake at night thinking half the time about what could go wrong, and spending the other half planning out paint colors and appliances and rearranging fake furniture in my head over and over again.
Maria.
We have a ways to go on both the sale of our home and the purchase of a new home, which we also have under contract. It's a sort of confused limbo where my brain doesn't know whether it can relax and feel at ease or continue plotting and planning for the worst.
And perhaps the problem isn't my Maria.
Maybe I AM Maria.
I can't seem to stop singing wherever I am. And what's worse, I can't seem to stop saying things – anything and everything I think and feel.